There was a buzz of energy surrounding campus on our first day of school - and not just from the excitement of being back! Our PGIA students were all hyped up for their field trip to UVI, and those of us still on campus spent the afternoon gawking upward with our jaws dropped. Experiencing the solar eclipse at VIMSIA and UVI was simply awesome! We had so much help and support from UVI and Dr. David Morris. We thank them so much for being instrumental in the great science that abounded yesterday surrounding the solar eclipse.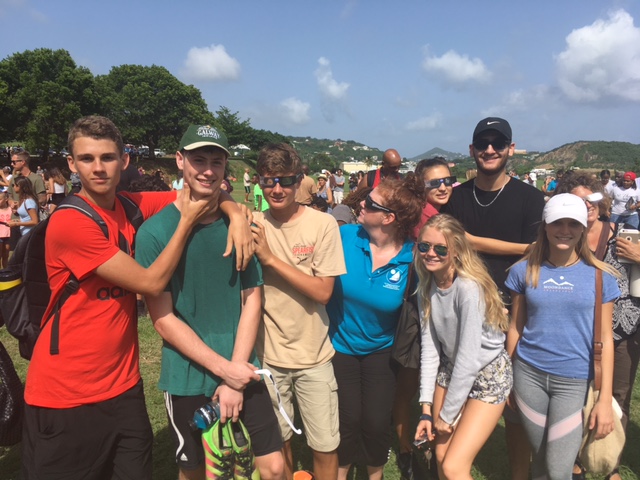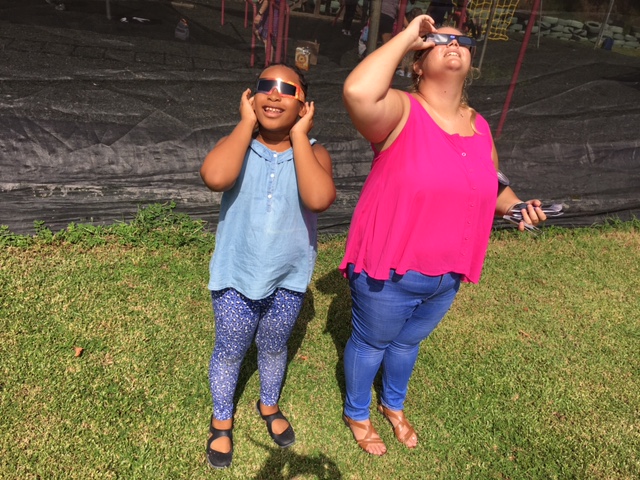 Our PGIA students all took a field trip to UVI to participate in the solar eclipse educational outreach presented by UVI. The Upper Elementary students hit the soccer field with eclipse glasses provided by UVI and pinhole cameras that they made in class. Lower Elementary student groups took turns poking out from under the solar awning to experience the image through their solar glasses.
This from Upper Elementary Teacher, Ms. Morrison to UVI's Dr. Morris:
WOW ! Wow! Wow! Thank you, Dr. Morris, that was just amazing! We had the opportunity to have all of our 9 to 12 yr olds, most of the 6 to 9 yrs olds view with teacher's assistance and most of the school administration each took a gander skyward. We also had many parents, as they arrived to pick up their children, take a look and even a few little ones under their parent's supervision. I had to laugh at the number of folks who, when initially offered the glasses, said "ah no, its no big deal" yet when encouraged, exclaimed how incredible it was. For a point of reference our pick-up time is between 3:25 and roughly 3:45 so prime shock and awe window.
Sooo.... saying thanks really doesn't seem to express how grateful we are to you for the glasses. Really!
Sincerely, Ms. Morrison
Look closely at the images of light on the sidewalk. The trees over the sidewalk have created a "pinhole" camera to reflect the eclipsed sun on the path. These were taken at about 3:35, so very near the maximum coverage that we experienced here in St. Thomas.